How to Grow Camellia
Camellias are a very showy, usually spring flowering shrub with lovely blooms. Camellias are not the easiest shrub to grow and the saying "Right plant right place" is crucial for Camellias which are only easy to grow in the right spot, and with the right soil, which is ericaceous (acid ) soil. Once established they are low maintenance, although sometimes they can be reluctant to flower. I have marked Camellias as a red wheelbarrow which indicates difficult to grow. Those gardeners reading this whose Camellias flower year after year in abundance with lovely green glossy leaves are probably wondering what is the difficulty with growing Camellias all I can say is read on.
There are a vast variety on offer in garden centres and their hardiness does vary from fully hardy to slightly tender the latter types need to be given winter protection. Check the label for information and also an explanation of what frost hardy means. Camellia shrubs vary in size from 1-20metre, most offered in the garden centres are medium sized, slow growing, to up a few metres. Camellias are evergreen, the foliage is attractive and glossy which is an additional reason to include them in a mixed border. Camellias flower in the spring, the flowers are very attractive as the images show and colours are predominantly red, and pink, sometimes white and very occasionally yellow.
How to Grow Camellias
Camellias are fussy. When planting do not plant too deep the root ball should be level with the earth.
Camellias must have acid soil otherwise they will fail to thrive and flower. This means if your soil is not acid you can only grow Camillas in a pot but fortunately they are happy container grown although it is essential to purchase ericaceous (acid) compost.
Camellias like moist well drained acid soil, in partial sun and away from cold winds in a sheltered spot, not facing East.
If that is not enough they also enjoy a nice leaf mulch being a woodland plant.
Why are Camellias difficult to grow?
Camellias dislike the cold winds and although many are fully hardy, the buds and flowers can be damaged by the morning sun, and so they should not be planted facing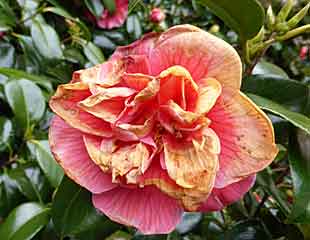 East to avoid the morning sun on their blooms and leaves. Frost followed by morning sun can damage the buds, and blooms causing them to go brown as in the image left. It is the combination of early morning sun and frost which does the damage, as a result many of the shrubs flowers can look similar to the one in the image. This means when growing Camellias choosing where to plant it is more critical than with some other types of shrubs. It is because Camellias are sensitive to frosts which damages their blooms, a sheltered non east facing spot is best and if you garden in a colder area prone to frost growing Camellias will present more of a challenge. Generally Camellias prefer semi- shade.
Wet and windy weather can also turn the lovely blooms brown.
Sometimes if Camellias fail to flower it is always worth trying an ericaceous feed in the spring and early summer. If it is very dry in the spring, water to prevent flower drop. It's best to avoid watering with tap water because it contains Calcium which reduces the acidity. It is important to feed Camellias only with ericaceous feed and early in the year.
Camillas are grown for their flowers and foliage which is a rich green and very glossy, or should be. Sometimes Camellias can look a bit patchy, with yellow or light coloured foliage. The most common cause of this is that the soil is not sufficiently acid. In which case either re plant in a container, or feed with ericaceous feed and don't use tap water.
Generally Camellias do not need pruning, but should you want to prune a Camellias bear in mind the buds form in summer and autumn. This means if you are to avoid cutting off the buds you must prune just after flowering in the spring. There is no specific requirement to prune and they will happily carry on growing without it. If a Camellia becomes overgrown it can be hard pruned and will re grow.
If the buds form but drop off, or there is a general flower failure on Camellias, this can be caused by dry late summer/autumn when the buds are forming, so extra (rain) water is needed at this time.
Having said all of that, plant and establish a Camellia in the right place and you can happily leave it to get on with the business of growing and flowering, the trick is to plant it in the right place and soil to start with. It is best not to let Camellias to dry out this will directly lead to poor flowering and bud drop.

The RHS recommends the following varieties :
Camellia x williamsii 'Donation' large pink semi-double flowers which flowers from late winter to mid-spring; 5m x 2.5m, will grow in a shaded position and is more hardy than Camellia japonica 'Adolphe Audusson which has bright red flowers in early spring, 5m x 4m
Camellia 'Cornish Snow' small, white single flowers in late winter; 3m x 1.5m. H4 rating

Also : Camellia japonica 'Tricolor' which as the name suggests blooms are white, striped red and pink. C x williamsii 'Brigadoon' semi double rose pink blooms. C. Japonica 'Elegans' large rose pink flowers.
Growing Camellias in containers
If you really like Camellias but your growing conditions are not ideal you can grow Camellias in containers. As explained above, Camellias like acid, well drained soil in a sheltered spot so if you have alkaline heavy poorly drained soil Camellia will not thrive or survive.
To grow in containers it maybe more manageable to select a smaller variety and a good sized container filled with ericaceous compost. Mix into the compost some ericaceous fertiliser, slow release for one season or feed with ericaceous feed. It is a good idea to water with rainwater if at all possible. A camellia in a pot will re re potting every other year into a large container with fresh ericaceous compost. If you do not repot top dress. This is to scrape away 5cms of compost from the top and replenish with fresh ericaceous compost. In the winter elevate from the ground to protect from frost using bricks. Place in a sheltered spot away from direct sunlight.