What to do in the garden in May
Gardening in May
By May Spring is in full swing, but the weather can still catch us out with its unpredictable changes from mild spells to sudden cold and chilly winds. The gardening magazines may be in full Spring glory; but are the gardens? All gardening advice needs to be adjusted to the weather, and most years provide illustrations of this. In many parts of the country May is a month in which more tender plants can be put outside, but not in the northern parts and it depends on the May weather. We should be frost free by the end of May, but it is always an idea to have a fleece or cloche handy.
May is a good time to think about the "Chelsea Chop" which is a great way of stopping some plants getting too leggy, and with others, staggering flowering times. The plant needs to be of a reasonable size and it is important not to chop too early in May if plants have just not reached the right growing stage because of a cold spring. If you haven't used the Chelsea Chop before it is really worth considering; for more tips and information about the Chelsea Chop. Video : How and when to do the Chelsea Chop
What to plant in May
In the veg plot: Broad beans, Runner beans, Peas, Onions, Garlic, Carrots, salad crops, Beetroot, Leeks, Strawberries
In the garden : all hardy perennials & evergreens, Sweet peas
and Sow hardy annuals where they are to flower (explanation "hardy")
What to plant under glass and / or delay planting out at the end of month or Early June
In the veg plot: French Beans, Squashes, Cucumbers, Tomatoes, Melon, Chillies, Aubergine , Sweetcorn, Courgettes and Sweet peppers.
May is also tomato time; a good time to buy plants to grow on in the greenhouse, or late in May when all risk of frost has passed tomoatoes can be planted out in the veg plot in a sunny spot. Tomatoes need attention to produce a good crop and even when the plants are small, as in the image left, you can see already side shoots are appearing which need to be removed. Information about removing side shoots on the blog, and more detailed information about growing tomatoes on the Growing Tomatoes pages.
Tender Bedding plants, and non hardy plants such as Agapanthus (some), Canna Lilly, Dahlias
If the conditions permit, and the young plants are sturdy, as the month goes on it is possible to plant out more veg, along with the tender plants and bedding. A fleece maybe needed for the more tender plants if it turns chilly, or there is a frost, and delay planting out the most tender, such as courgettes, squashes, French beans until the end of May/June depending on your garden aspect.
A job for May, whatever the weather, is to stake perennials. I always leave this task too late and end up trying to persuade the delicate stems of a Peony through the hoops of a plant support.
If you planted Dahlias earlier in the year, the growth takes about 6 weeks to reach to soil surface, which can be around May time so if there is a frost it will need to be protected. For advice and tips on growing Dahlias
May In the Veg plot
Growing Potatoes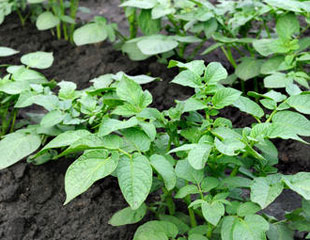 May can be a dry month in which case water Potatoes regularly and keep an eye on the top growth, because if there is a frost, the top growth, called 'haulm', will need protection. This is illustrated left, and will get damages by frost and if the top growth does get caught in a frost, the Potato will survive, although it is likely to delay the flowering and harvest.
Potatoes like to be planted into a warm soil, so check the soil, not the calendar, if you want to get them off to a good start. If you are growing in containers check the temperature of the compost as bags which have been stored outside can be surprisingly cold. Cover the bed or tubs with fleece if there is frost. The early potatoes may need earthing up for the first time in late May/early June, which helps to improve the crop as it allows more potatoes to form as the season goes on; more about growing potatoes with tips and hints on how to get the best crop.
Vegetables to sow in May
Continue to sow under glass the more tender vegetables such as French beans, tomatoes, sweetcorn, squashes, Cucumber and courgettes. These will need to be grown on under glass until frost free conditions are available in the veg plot which means late May/early June, depending on where you are in the country and the garden aspect. Delay planting out any of these veg until frost has passed.
Onions and garlic can be safely planted out, for advice on how to grow onions and garlic
Even if the plant is fully hardy, it is essential to " harden off" plants grown under glass so they are ready to be planted outside. Also plant purchased on line and in garden centres will have been grown in ideal conditions and need hardening off before planting out side in variable weather conditions. To do this, put the plants out on milder days and nights, gradually exposing them to more and more time in the outside conditions. On colder days and nights, bring back under glass or cover with a fleece gradually reducing the cover until they are out 24/7 and acclimatised to the growing conditions outside.
If conditions are right and the soil warmed up, you can sow outside the hardier veg such as carrots, broad beans, onions, garlic and purple sprouting broccoli. Carrots always need protection against carrot fly and this needs to be a physical barrier such as euro mesh - check this link for information on Euromesh. Carrot fly will severely damage the crop and although it is a nuisance to erect mesh around the crop it is the only safe way. Specialist varieties such as Flyaway are less vulnerable but not guaranteed. Tips on how to grow carrots
Video on how to plant out beans.
Veg plants started early in the greenhouse may well be ready for potting on if not yet the time to plant out. It is essential if the plant roots are filling the pot, and conditions are not ready outside to plant out, that the plant is potted on to a larger pot. This is commonly needed with tomatoes which can be purchased as small plants, and will need to be potted on before being place in final position. More about growing tomatoes and video on potting on tomatoes. Even at this early stage tomatoes will be producing side shoots and it is important to remove this regularly. Advice on side shoots look like and how to remove them on growing tomatoes and video.
Herbs and Salad Crops
May is a good time to grow herbs from seeds and to plan a herb garden for the summer. Plant outside Thyme, Rosemary, Parsley and Mint. Sow the tender herbs, basil, coriander, dill, Thai basil, and tarragon in pots under glass ready to plant out later month. Parsley can be very slow to germinate, and may look as if its doing nothing, but don't abandon the pot for a number of weeks. Herbs are so expensive to buy they are always top of my list, and growing herbs is easy from seed or small plants and home grown seem to last a lot longer than the supermarket versions.
This month is the right time to plant out lettuces and rocket, either as small plants or sow under a cloche. As the lettuce appear, so will the slugs. Slugs love young lettuce and will munch through a crop over night.
For more information on protection and how to beat the slugs see link
How to avoid gluts
"Successional sowing" is a way to avoid or at least reduce gluts. To have a regular supply of veg it is necessary to sow/or plant a regular supply of plants or seeds at regular intervals so that they come to fruiting spaced by the interval of planting. Generally seeds sown together will crop together and can create a glut. A useful Rule of thumb, (and easy to remember) is to plant or sow every fortnight for successive cropping.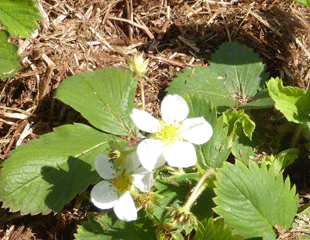 Check out the flowers and emerging fruit on the strawberries before the birds do. Net and protect the plants from the birds to make sure you can enjoy the crop as the birds love strawberries - place straw around to protect the fruit from dirt and rain splashes (which can cause mold). I like to keep strawberries covered with a cloche through the early growing months as the extra shelter aids an earlier crop.
These strawberries are mulched with strulch a brand of mulch which I find very effective and easy to use. I use it on the strawberry plants and all around the garden as an good mulch. It is also very light and clean to handle.
May in the garden
Chelsea Chop
Not like the Barnsley chop. This is a way of stopping back herbaceous and perennials plants to make them bushier, and flower slightly later. It's very good for plants which tends to get leggy later in the year, by chopping it in May growth will be checked, and the plant will throw out more shoots and flower later. The Chelsea chop is really a light prune and the result is a more compact shrub flowering lightly later.
Traditionally executed in Late May, (about or after the time of the Chelsea flower show after which it is named,) the idea is to prune the plant back by about a third to a half, which means reducing the plant stems. You can either chop the whole plant, or selected plants in the group or individual stems cut back to stagger flowering. Experiment to vary flowering times and to make plants more bushy. Whilst May is traditional, it depends on the growing season as the plant needs to have put on a good degree of growth to be reduced by the Chop. For more information about the chelsea Chop and details of suitable plants.
I grow Nepeta quite a lot as Lavender struggles my garden tends to be wet which Lavender hates. Later in the growing season it sprawls all over the place, refuses to be contained by plant supports and lies on adjacent plants. The way to tame it and other plants which you wish were smaller and neater, is to use the Chelsea Chop; its very effective.
If you are growing plants in containers, especially tender plants which have been overwintered, now is a good time to feed them. You can do this without re-potting by sprinkling the fertiliser on the surface and gently, with small hand rake, work it into the top spoil. This is suitable for plants such as Agapanthus where the container maybe full with little bare soil showing. Alternatively, if there is bare soil and room in the pot, you can "top dress" the container. This means to remove the top few centimetres of compost and replace with new compost with added fertiliser.
Feed garden shrubs and roses now, just add a handful of fertile around the base of shrub and fork it in. If you have time, Roses benefit from at least two feeds per summer.
Staking and putting supports around plants, particularly the herbaceous perennials, helps them to look their best when in full bloom later in the year but it becomes more and more difficult to insert the stake as the plant puts on more leaf. If the plant is more mature, it is very hard to get the support in place without damaging plants or the budding flower heads. It is so easy to leave this job until too late, and many plants need support, for example Peony, Delphinium, dahlias, Allium, anything waving around in the wind looking vulnerable, or with heavy plant heads, such as Peony, and Oriental Poppies. The choice of support depends on the type of plant, but make sure any ties used are soft and there is room for the plant to grow. The Peony in the image left is just at the right stage to stake it, if left any longer as the flower heads are vulnerable to damage when trying to get the support over the plant.
Different plants need different types of support Peony do well with a grid support as in the image, Delphinium are better suited to individual stakes and plants such as Crocosmia respond best to firm supports to keep the plant upright, with string or raffia linking the supports.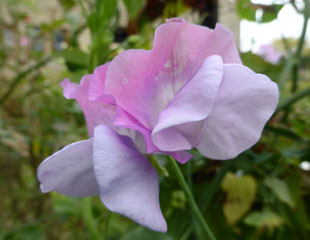 April and May is a suitable time to plant out sweet peas but best to make sure they are fully hardened off before planting out. Sweet peas look just great in the border climbing up an obelisk or suitable support and add colour, height and best of all scent. Sweet peas are an effort, but very long flowering with regular dead heading I have picked Sweet peas in late October so you do get your money's worth.
Sweet peas like moisture and one tip is to line the trench with newspaper to add extra moisture retention. If sweet peas get too dry they are prone to mildew. For more on growing sweet peas and for a video on planting out sweet peas.
Sweet peas are marked red wheelbarrow because they require time and effort throughout the growing season but reward with masses of blooms and scent.
Train Climbing plants
Climbing plants will be putting on spurts of growth in the warmer weather and need checking and the new growth to be tied in. This supports the plant but also enables you to guide the plant to grow where you want it to and not where it may want to go. It is a wild generalisation, but most climbing plants can be a bit of a thug, fast growing and clinging to anything around including neighbouring plants. It is good to train the climbing plants and tie it in otherwise you can find a smaller plant next to the climber gets tangled up and it's growth restricted by shoots from the climber.
May is the time you can, if you want and the shrub needs it, to prune early spring flowering shrubs. These shrubs are pruned only after flowering, so whatever the books and magazines say with regard to the time to prune, it depends whether your shrub has finished flowering. Pruning helps to stop the shrub getting too big for it's space and to shape it. If you been admiring a spring flowering shrub, but at the same time thinking its getting too big, now is the time to attack. Cut back all of the older, woodier stems from the base, and if needed you can also cut back, by about half, any long stems. Suitable shrubs are Deutzia, Ribes sanguineum (Flowering current) Forsythia, Philadelphus (mock Orange) Spiraea arguta and Viburnum bodnantense. Some of this group maybe ready for pruning in May such as the Forsythia others may need to wait until June.
Annuals

There is still plenty of time to sow annuals to add to the colour of the borders and many are very easy to grow. The advantage of sowing annuals is that you can pick from a wide range of seed and grow plants you do not generally see in the garden centre. Some annuals are showy but not easy to grow such as Cobaea Scandens- check link for image- It's very tender, a native to South America and a lovely climbing plant to have as part of the summer display. The specialist seed catalogues have a fantastic range of seeds and its great fun to grow something unusual.Another excellent annual is morning glory or Ipomoea . Again, very tender annual and it is best grown on under glass until at least early June before planting out.
An easier annual which is attractive to bees and butterflies is our native Cornflower Centaurea cyanus, image left, and in its true blue colour can look stunning on its own or as part of a wild flower patch.
Why not grow a collection of annuals and plant a wildflower patch. There is a really easy way create colour and its much easier that you may think. How to cheat and create a really easy wildflower patch which doesn't require hours of time or acres of land.
Bedding plants
Late May is generally safe to plant out bedding, but don't rush. If it's a cold May the bedding will not like it and planting out when it is cold can cause the plants to sulk. The plants we buy from garden centres and Internet providers have been grown in perfect conditions, warm, no wind or cold and perfect amounts of water. To buy and bring the plants home and stick them outside in a cold May with a chill wind will give the plants a shock and set back growing. It could delay the plant by a number of weeks so it is better to wait to a warm spell and get them off to a good start.
A good tip, if you have a potting shed or greenhouse, is to plant up the containers and grow them on in the greenhouse until later in May. The plants will get more established in the container and will be more mature when moved outside. Whether outside or in, nip out the growing points to produce a bushier plant otherwise some plants, particularly petunia, fuchsia, verbena will grow leggy, see image left. Whether growing bedding plants on inside/windowsills/in the greenhouse I usually stop them from flowering by pinching out the flowers until ready for planting out. There is no point in the plant using energy to flower in the greenhouse, nip out the flower and divert the energy to the plant growth until outside in the garden.
Cut back early flowering plants
In May/June, the early perennials such as Aubrieta, and Alyssum once they have finished flowering can be cut back. This promotes good flowering next year and encourages the compact shape. Simply trim into neat shape removing all spent flowers.