How to Grow Geraniums
How to Grow Geraniums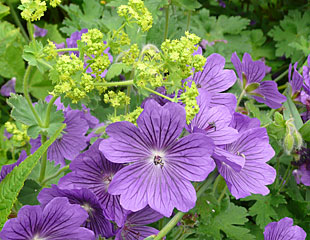 Hardy Geraniums as a plant group are mainly herbaceous perennials, not be confused with Pelargoniums, which are also often called Geraniums, which are non hardy and usually feature as summer bedding. This group of Geraniums, whose common name is Cranesbill, are fully hardy and an attractive, useful border plant which is unfussy about it's growing conditions, and mixes well with other plants, especially good with roses, and loved by both bees and butterflies.
Geraniums will grow in sun or partial/light shade which is why they are included in shade tolerate plants. Growing Geraniums is easy and they are classified as "green wheelbarrow",

making them amongst the easiest of plants to grow. Geranium flower colours are blue, purple, pink and white often with attractive markings inside the flowers, as in image top right. There are compact varieties for rockeries and taller ones suitable for borders. The strong blue and purple Geraniums are particularly attractive to bees and make a good contrast against the lime green of Achemilla mollis, image left. Achemilla

mollis is an easy plant to grow although prone to self seeding. Geraniums often feature in gardens with traditional herbaceous type borders, mixing particularly well with Roses as in the image bottom left of blue Geraniums with yellow roses.
If you are interested in seeing how attractive to bees blue Geraniums are, take time out to view a short video taken on a lovely warm summers day. Here Geraniums and Chives are planted together and are like a bee magnet.
Tips on Deadheading Geraniums
One of the good things about Growing Geraniums is that they need little attention and they will grow in most soils, unless waterlogged, in full sun and in partial shade. The only effort when growing Geraniums is with regard to dead heading and because most varieties produce a lot of flowers, that equates to a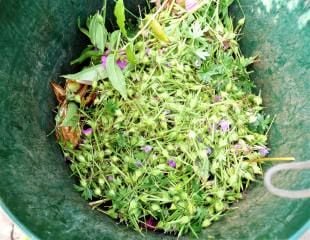 lot of dead heading. This can be hard work as they produce many many flowers which means many dead heads. There are two ways of tackling this.
One way is to dead head each flower individually, which may be practical at the beginning of the summer, but as more and more flowers appear and die on the plant it can become too time consuming.
The image left shows the very large number of flowers some Geraniums can produce. The alternative, which is helpful when the foliage becomes tired looking later in the summer is to cut the plant right back during the summer after it's had a good spell of flowering. It will produce new green foliage and quite often a further flush of late flowers. If you don't want to look at the bare earth whilst it is growing back you can always prune it before a holiday and when you come back it will be neat green mound of new foliage.
Geraniums are a lovely summer flowering plant with delicate flowers and easy to grow. Geraniums are tolerate of so many soil types they are useful to grow in many parts of the border. Mostly herbaceous, they disappear in the winter, and re grow in the spring.
Some Geraniums are long flowering and will flower right from June to frosts.
The image left is Geranium pyrenaicum, common name Hedgerow Geranium which is classified by many as a wild

flower although commercially available. It is lovely, upright in growth to around 45-60cms delicate flowers which appear to have 10 petal and lovely pale lilac in colour. It has a sprawling habit but still appears neat and flowers for months and months.
The image left was taken in November, albeit 2015, which was a very mild Autumn, but still flowering well. This variety is perennial and very similar to Geranium molle, common name Dovesfoot Geranium one of the main differences being the Hedgerow is perennial so much more useful as a garden plant than the annual variety and it is taller.