Welcome to the Sunday Gardener
August is time to enjoy the garden and summer is well and truly here, or should be.
The Sunday Gardener's Calendar for August is full of tips and growing advice for this month including the best way to dry onions and garlic to ensure they store well for the winter.
July/August is time for the essential second prune of the wisteria and advice on how to recognise, and deal with rose suckers.
And a whole page of tips on going on holiday what to do about the garden.


Dierama common name Angel's fishing rod is a lovely, arching delicate grass . It looks effective grown on the water's edge, and also combined with grasses and Agapanthus. Featured in the newsletter this month there are also lots of images of this lovely plant on the Pinterest page.
Garlic and onions should be ready to harvest later this month. It is important to dry them out thoroughly before storing. The old advice was to lay them on the ground to dry, but with all this wet weather, better in a greenhouse, as illustrated, or in nets in a shed. More information on drying and storing.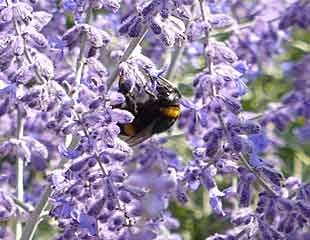 Perovskia common name Russian Sage, is a lovely small to medium sized shrub reaching up to 1m with soft blue flowers which the bees go mad for. It has silver foliage and and likes dry sunny conditions. It is fully hardy and will tolerate coastal conditions.
Japanese Anemone are a tall and graceful herbaceous perennial with a long flowering period throughout August and September. Growing up to 1-1.2m they need space in the border. Easy to grow and fully hardy these Anemones come in pastel shades of white, cream, pink and mauve.
Gardening tips and help on how to grow all sorts of vegetables and inspiring images of vegetable in some of our best RHS and show gardens on Pinterest.
More than ever gardening is about being greener and helping wildlife. Ideas about wildlife friendly plants and plants for bees and butterflies which are easy to grow and will ensure your garden has a buzz.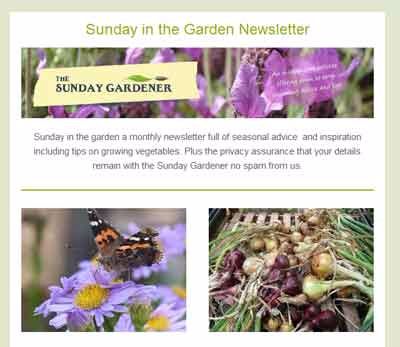 "Sunday in the Garden" is a monthly newsletter with seasonal advice and ideas. Each month there are tips on how to get the best from your garden featuring easy to grow plants to -
Sign Up for the newsletter
August's newsletter continues the theme of looking at Clematis, this month featuring C. 'Princess Diana'. Spotlight on Dierama also known as 'Angel's fishing Rod' along with information on growing Hydrangeas, taking cuttings from Geraniums and how to divide water lilies.
For help from the Sunday Gardener and plant identification service