Welcome to the Sunday Gardener
With March, comes spring and although there are some blustery cold days, and we can get snow at Easter, there are also lovely days when spring is in the air.
March is the time for planting out first early potatoes, and seeding all sorts of veg for planting out later in the year. Help with germination with a step by step guide.
Thinking about the summer March is also the time for planting summer bulbs such as Lily and Dahlia which provide such great summer colour.

For scent it is hard to beat sweet peas which can be germinated now ready for planting out later in spring. Tips and advice on growing sweet peas including how to get straight stems.

Catch a short piece of Owl audio magical sound of gentle hooting stream side.
The Sunday Gardener's March Calendar has seasonal advice and tips


Another early flowering Clematis which has the added bonus of being evergreen and with scented flowers is C. armandii. To keep it looking at its best C.armandii needs a sheltered spot with some winter protection. Clematis flower all the year round and there are many varieties to choose from, including as patio plants.

In March the first bees will emerge and why not welcome them with some early Nectar. Pulmonaria may look small flowers, but they are just what a solitary bee is looking for. Pulmonia are easy to grow in a shady spot.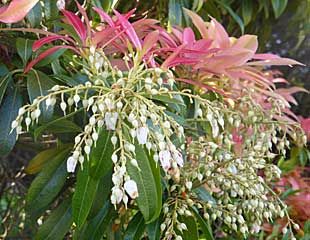 Easy to grow Pieris puts on a great show at this time of year. Bright red foliage followed by a host of white flowers shaped like little bells; its common name is lily of the valley shrub. All it requires is an acid soil and is low maintenance.
Gardening tips and help on how to grow all sorts of vegetables and inspiring images of vegetable in some of our best RHS and show gardens on Pinterest.
More than ever gardening is about being greener and helping wildlife. Ideas about wildlife friendly plants and plants for bees and butterflies which are easy to grow and will ensure your garden has a buzz.