Welcome to the Sunday Gardener
June the first month of summer and time for enjoying the garden. Lots of our garden favourites are blooming, Roses, Clematis, Geraniums, bedding plants there is so much colour. The risk of frost has passed and it's safe to plant out tender plants and veg.
The Sunday Gardener's calendar for June is full of tips and growing advice for this month including advice on successive planting in the veg plot to avoid glut and hints on why deadheading will keep your garden blooming.


Thalictrum, common name Meadow Rue, has lovely delicate flowers on tall stems which make clouds of blue/mauve or white. Thalictrum is really easy grow, it's a herbaceous perennial coming back reliably each year. Thalictrum will tolerate partial shade, it is willowy and suitable for the back of a border looks great with Delphinus and also with grasses.
To ensure you have a great crop of tasty tomatoes check out "Success with Tomatoes" a new e book by the Sunday Gardener, just £1.99 A concise guide with all you need to know growing tomatoes.
A complete guide on how to grow Tomatoes from seed to harvest.

Cistus, common name rock rose, is a shrub for milder areas because it it is not fully hardy. Masses of attractive but short lived flowers Cistus likes a warm sheltered sunny spot. Illustrated in the gallery is Cistus × purpureus which is low growing and ideal for front of a border.
Cistus looks good in a dry sunny spot combined with Rosemary, Artemisia and Achillea.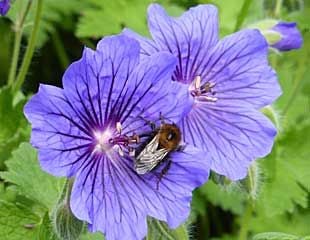 Geraniums are a garden favourite for borders flowering in range of blues, mauve, whites and pinks often with delicate veining and dark eyes Geraniums flower over a long period of time. Most are fully hardy and enjoy a sunny spot and are much loved by bees, especially the blue varieties.
Have a tranquil moment watching this short video of the bees enjoying a lovely blue Geranium.
Gardening tips and help on how to grow all sorts of vegetables and inspiring images of vegetable in some of our best RHS and show gardens on Pinterest.
More than ever gardening is about being greener and helping wildlife. Ideas about wildlife friendly plants and plants for bees and butterflies which are easy to grow and will ensure your garden has a buzz.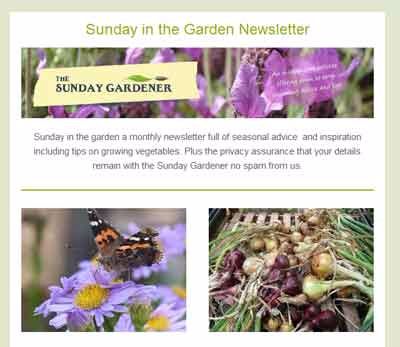 "Sunday in the Garden" is a monthly newsletter with seasonal advice and ideas. Each month there are tips on how to get the best from your garden featuring easy to grow plants to
sign up
.
June newsletter spotlights on Clematis flowering in June; ideas on growing herbs and planting annuals with vegetables for colour and pollination.
Advise on growing vegetables in June.