Welcome to the Sunday Gardener
August is time to enjoy the garden with flowers and vegetables for harvesting. To keep everything flowering and to boost fruit, it is a good time to feed and tomatoes, it is essential. This time of year tomatoes need feeding every week and often, when it is warm, watering daily.
Last chance to give Wisteria its summer prune, vital for next year's flowers. Tips advice and a video on how to summer prune Wisteria.
It is not too late to sow or plant salad crops such as lettuce rocket and radish.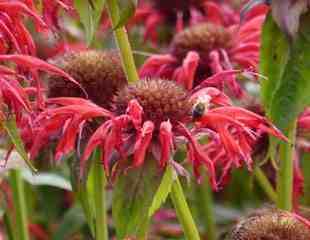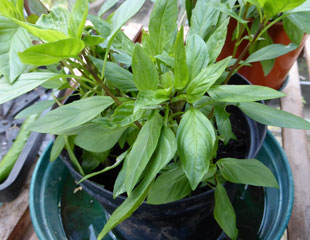 Monarda known as Bee Balm is an aromatic plant loved by bees and hoverflies. It is good for late colour in the border at this time of year.
It may not look flash, but Thai Basil is easy to grow and gives curries a really authentic taste. It is not too late to sow now.

Salvia lovley medium sized border plants this is S.patens and behind it red and white is S. microphylla 'Hot lips'. An added bonus is that Bees also like salvia. Some plants are not fully frost hardy, these are H4 so it is important to check the plant label which can be a problem with some plant labels.
Buddleia a magnet not just to butterflies, but all manner of insects, scented with lovely flowers this is B. davidii. You can also buy now plants with attractive variegated foilage and dwarf varieties suitable for smaller gardens and containers.
Gardening tips and help on how to grow all sorts of vegetables and inspiring images of vegetable in some of our best RHS and show gardens on Pinterest.
More than ever gardening is about being greener and helping wildlife. Ideas about wildlife friendly plants and plants for bees and butterflies which are easy to grow and will ensure your garden has a buzz.