Welcome to the Sunday Gardener
November brings the winter weather and we can expect frosts and colder weather. In some parts of the country frost has already struck. Before another cold spell, its a good idea to protect half hardy and tender plants and overwinter safely.
Frost make the garden looks spectacular when the plants are laced with white. This is especially true of grasses where the fronds sparkle with frost. To get this effect in your garden, plant grasses where the sun rises behind or one one side of them so the light shines through illuminating the plant.
There are jobs and ideas for things to do in the garden on milder days.


This is the last chance to sow sweet peas and over winter them under glass for an early crop next summer. Provided sweet peas are sheltered and protected they are easy to germinate and overwinter; more tips on Autumn sown sweet peas.
Armchair gardening for next years tomatoes and a Gardener's Christmas gift. "Success with Tomatoes" the Sunday Gardener's own handy growing guide, available on Amazon, in paper back and e book format.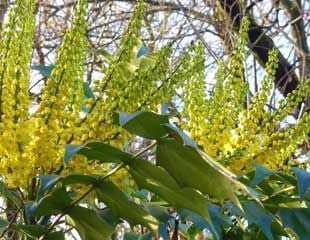 Mahonia lights up the winter gloom with bright yellow flowers. It is a tough shrub, very hardy and will tolerate harsh conditions making it an ideal shrub for a difficult spot. Some varieties have the added bonus of being scented. More about Mahonia.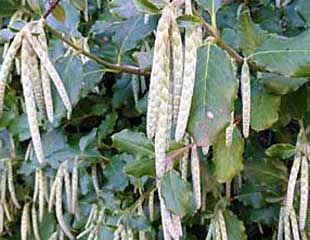 Also looking good at this time of year is Garrya elliptica, known as the Silk Tassel bush on account of it's long catkins. It is evergreen and although said to be slightly tender, it will grow in most parts of the country if protected from chilly winds.
Gardening tips and help on how to grow all sorts of vegetables and inspiring images of vegetable in some of our best RHS and show gardens on Pinterest.
More than ever gardening is about being greener and helping wildlife. Ideas about wildlife friendly plants and plants for bees and butterflies which are easy to grow and will ensure your garden has a buzz.