Welcome to the Sunday Gardener
Autumn is beginning and the garden is slowing down. There is still harvest and more to come so continue feeding veg, especially tomatoes. It is not too late to sow or plant salad crops such as lettuce rocket and radish, you may need a cloche handy. Harvest maincrop potatoes which need to be stored out of the light in a cool dry dark place. Onions need to be fully dry before storing over winter.
In colder parts of the country it maybe time to bring under glass any tender plants to be overwintered, and the swallows are getting ready to fly south for the winter.


Autumn is the time to buy and plant Spring Bulbs for a good display next year. Daffodils, Narcissus and many bulbs can be planted in October; Tulips later. Tips, advice and planting depths.
Some varieties of Garlic can be planted in the Autumn if you have the right growing conditions, free draining soil and on the sheltered side. Elsewhere Garlic can be planted under glass ready for next spring.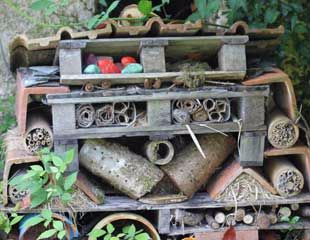 To encourage wildlife into the garden in addition to wildlife friendly shrub, it is easy to make Bug hotel and an ideal for half term. Autumn is a good time to create a shelter for bugs and The Eden Project has all the tips you need. This is also a good time to make log piles and tidy up leaves into heaps to provide a hibernation nest.
Pyracantha is a common garden shrub but has much to recommend it not least the fabulous autumn berries in bright red, orange or yellow. Eventually the birds will eat them all but often the shrub looks splendid for months and is easy to grow tolerant of all soil types, fully hardy and will grow in partial shade.

Gardening tips and help on how to grow all sorts of vegetables and inspiring images of vegetable in some of our best RHS and show gardens on Pinterest.
More than ever gardening is about being greener and helping wildlife. Ideas about wildlife friendly plants and plants for bees and butterflies which are easy to grow and will ensure your garden has a buzz.