Welcome to the Sunday Gardener
Monthly gardening tips for February 2016
Time for pruning Clematis groups 2 & 3 lots of help and advise on pruning Clematis on the Clematis pages and video explaining pruning groups and how to prune.
The key to ensuring Wisteria flowers is pruning and the winter prune in February is essential.
The right time also for pruning Buddleja and Cornus
The Sunday Gardener newsletter kicks off in February with lots of seasonal advise and ideas- sign up
February is the best time to prune Clematis to ensure good growth and flowering later in the year. Lots of advice and tips on the Clematis pages
The weather is still cold but inside in the warm time to plan, order and buy seeds and young plants for the veg plot. There are even a few veg which can be sown now under glass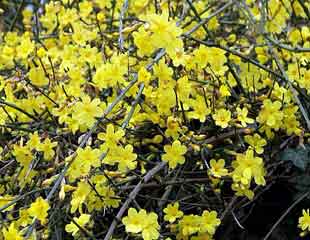 Winter flowering Jasmine are easy to grow and maintain flowering from January to February. A vigorous climber which will grow is partial shade has really bright yellow flowers.
Gardening tips and help how to grow all sorts of vegetables and inspiring images of vegetable in some of our best RHS and show gardens on Pinterest.
More than ever gardening is about being greener and helping wildlife. Ideas about wildlife friendly plants and plants for bees and butterflies which are easy to grow and will ensure your garden has a buzz.

If you are looking for easy to grow Plants and shrubs and veggies check out those with green wheelbarrow means easy to grow.
Also recommended plants, shrubs, and veggies for growing are those with the Garden Merit Award.