Welcome to the Sunday Gardener
Winter has arrived and it is essential that tender plants are protected, either by wrapping up, moving to a sheltered spot or bringing under cover. The main problem overwintering plants in the greenhouse is not so much the cold, but the damp still air which causes mold. To reduce this ventilate the greenhouse as much as possible on milder days.
Snow can damage evergreen shrubs. It looks so pretty, but snow is heavy and causes damage to shrubs, advice and New Video about Snow Damage in the garden
Catch a short piece of Owl audio magical sound of gentle hooting stream side.
The Sunday Gardener's January Calendar has seasonal advice and tips


For a splash of bright yellow colour in winter Mahonia is ideal. It is easy to grow, tough, and some varieties are scented and will be in full bloom in January.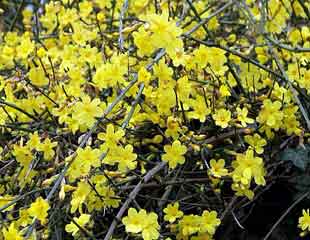 Jasminum nudiflorum, winter flowering Jasmine is easy to grow and flowers reliably. It is a good plant for a difficult area tolerant of shade, poor soil and needs no maintenance. It looks good at this time of year, can be a bit tatty when not in flower best grown with an evergreen which could be ivy, another tough tolerant plant good for tricky areas.
Pyracantha is a common garden shrub but has much to recommend it not least the fabulous autumn berries in bright red, orange or yellow. Eventually the birds will eat them all but often the shrub looks splendid for months and is easy to grow tolerant of all soil types, fully hardy and will grow in partial shade.

Gardening tips and help on how to grow all sorts of vegetables and inspiring images of vegetable in some of our best RHS and show gardens on Pinterest.
More than ever gardening is about being greener and helping wildlife. Ideas about wildlife friendly plants and plants for bees and butterflies which are easy to grow and will ensure your garden has a buzz.