Welcome to the Sunday Gardener
October brings a real change in the weather, with an autumnal look and feel in the garden. The Autumn trees are beautiful and you can almost feel the garden slowing down.
The Sunday Gardener's Calendar for October is full of tips and growing advice for this month including:-
How to make a leaf mould bin to store all those fallen leaves; how to sow and overwinter Sweet Peas for next summer and the best way to ripen all those green tomatoes.


Sweet peas in October! it may seem incongruous, but October is an ideal time to sow and then over winter sweet peas under glass for an early crop next summer. Provided sweet peas are place in a sheltered, and protected they are easy to germinate and overwinter; more tips on Autumn sown sweet peas.
If you are lucky enough to have the right growing conditions you can plant Garlic in Autumn. The longer growing season should result in a better yield. Garlic needs a light soil which will not water log over the winter. More advice on Autumn planting Garlic.

Grasses look great in the Autumn, many have russet and brown hues which last well into the winter. Later in the year they become nature's sparklers when fringed with frost. There are so many spectacular grasses to choose from, illustrated is Miscanthus sinensis 'kleine silberspinne' which has reddish flower heads which turn brown as they age. This image was taken at Harold Hillier gardens in Hampshire where grasses are extensively used in planting, as shown in Pinterest.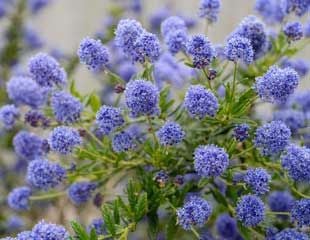 We think of Ceanothus as a spring flowering shrub, but this variety C. 'Autumnal blue' flowers at this time of year a lovely soft shade of blue. It has attractive small leaves with the added benefit of being evergreen. Although described as hardy in all parts of the UK (H4,) Ceanothus requires a sheltered spot away from cold winds and with plenty of sun. It does well planted against a wall to provide shelter and will grow up to 3m. If the winter is severe it will need protection but is ideal for many of the more sheltered parts of the UK
Gardening tips and help on how to grow all sorts of vegetables and inspiring images of vegetable in some of our best RHS and show gardens on Pinterest.
More than ever gardening is about being greener and helping wildlife. Ideas about wildlife friendly plants and plants for bees and butterflies which are easy to grow and will ensure your garden has a buzz.