Welcome to the Sunday Gardener
Winter is here bringing with it freezing temperatures and the risk of snow. Check out Winter gardening tips and a video about snow damage in the garden.
Frost make the garden looks spectacular when the plants are laced with white. This is especially true of grasses where the fronds sparkle with frost. To get this effect in your garden, plant grasses where the sun rises behind or one one side of them so the light shines through illuminating the plant.




Winter flowering Jasmine, Latin name Jasminum nudiflorum, lights up the gloom with it's bright yellow flowers. It is an easy to grow climbing plant, which needs pruning to keep in shape but is tolerant of most growing conditions and fully hardy, although not scented,
In January there is little going on in the veg plot and its a time for planning what to grow this year. Check out last year's seeds for viability, hopefully they are dry and firm. As always with vegetables it is necessary to follow crop rotation to ensure the best crops.



Viburnum × bodnantense 'Dawn' is one of two Viburnums flowering at this time of year. 'Dawn' is a sweetly scented deciduous shrub where the flowers appear on bare branches. Also in flower is V. tinus, a tough evergreen shrub. Images and growing advice on Viburnums.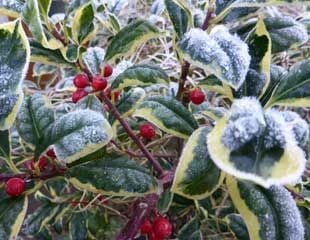 Hollies are still looking good, especially those shrubs with lovely berries. Hollies are slow growing shrubs but trouble free and ideal for planting in a mixed shrub border. For berries it is necessary to have a male plant nearby and their names are no guide to their sex, read more.
Gardening tips and help on how to grow all sorts of vegetables and inspiring images of vegetable in some of our best RHS and show gardens on Pinterest.
More than ever gardening is about being greener and helping wildlife. Ideas about wildlife friendly plants and plants for bees and butterflies which are easy to grow and will ensure your garden has a buzz.